I guess having been a photographer for over lots of years does mean I've seen quite a few changes and advances in the industry. Not least in the type and style of equipment but also the moving from film to digital capture.
Very occasionally I will hanker for the days of darkrooms; printing your own black & white prints, processing films, mixing up the chemicals with their own distinctive pungent smells (probably outlawed by Health & Safety now), you could spend hours in the darkroom not knowing what time of day it was until you finally emerged, clutching a handful of prints.
In the eighties, I think it was Fuji who invented the first throwaway camera which you basically took your shots on and sent the whole thing to the lab which in turn then sent you your prints along with another 'free' throwaway camera.
That invention made photography even more accessible, no more of having to make decisions over film and then loading and unloading, running out and taking to the chemists for processing, waiting a week for what inevitably turned into 23 pictures of headless people and one half-decent shot.
It was easy and made everyone potential photographers.
Nowadays, with cameras fitted to a multitude of devices and in all sorts of shapes and sizes we record so much more of our daily activities. Facebook is full of pictures of cream-laden coffees, food about to be consumed and now the obligatory 'selfie'. We are all photographers now.
None of these pictures would probably ever grace someone's living room wall (unless you know different!). So when you do come across a picture that makes you go wow,  it stands out from the crowd even more.
I have lots of pictures on my walls (not all mine I hasten to add) the most recent is a 5ft wide canvas of a picture I took last year on Charmouth beach, I entitled fire in the sky.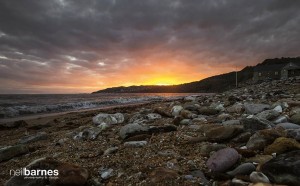 Whenever I get visitors it's one of the first things they comment on, it draws the eye and is a great conversation piece and ice-breaker.
There's lots of pictures in my shop of scenes around West Dorset and having one printed onto a large canvas really makes it stand out www.neilbarnes.com/shop/
So at least that's one thing that will never change despite all the advancements in technology, a great picture will always be a great picture no matter how it was taken.